Do you ever get impressed with hotel and sky lounge classic up-to-notch design?
Coincidently you are owning a new house and planning to transform it into your long-awaited dream home?
Compared with some ordinary finishes such as painting and wallpaper which required much higher maintenance and upkeep….
Why not give a try on wooden wall paneling, which can maximize your home with trendy luxury sense?!
You might have doubts about its budget, design, materials, installation and functionality…
Dude, we are ready to tell you MORE!!!
Some bright sides regarding fluted panels which others might not tell you before…
Let's Know More About Fluted Wall Panel
Fluted wall panel is an engineered decorative component made from compressed wood, plant fibers or PVC plastic, which sticks together by special glue.
The excellent natural wood appearance in terms of wood tonning, grain finish appearance and texture received a good response due to the current trend of decoration.
Frequently overlooked, fluted wall paneling can be an ideal solution for your home!
Also read: Fluted Wall Panel Design Ideas For Your Home (7 Areas)
Why Choose A Fluted Panel For Your Home?
We understand a good living atmosphere is reluctant and important to you and your loved one.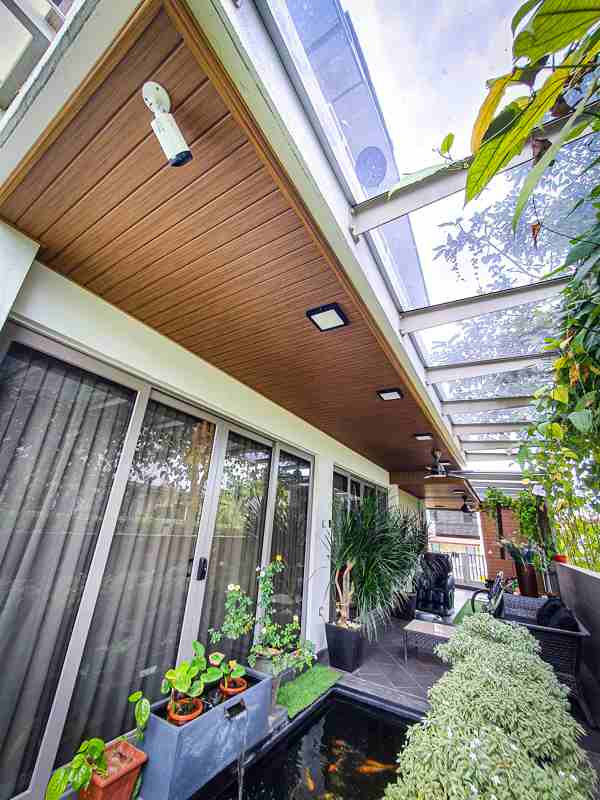 Instead of spending much on making ordinary interior design, why not think out of the box?
Below are 7 reasons to share why Fluted Panel is the BEST CHOICE for your Home.
1. Multiple Finishes Of Wall Panels To Meet Everybody Need
2. Wall Panels Applicable At Every Corner Of The House
3. Unbeatable Features Of Wall Panels
4. Wall Panels Can Help To Cover Up Imperfection
5. Wall Panels Are Easy To Install
6. Upkeep Wall Panels Are So Easy
7. Wall Panels Will Cost You Less
1. Multiple Finishes Of Wall Panels To Meet Everybody Need
From multiple colour range
dark brown
grey
light brown
white
Till featured by different shades including
There is a wide selection of finishes you can choose to perfectly suit your home!
For 3D Wall panels, they come in repeated shapes that can be joined to create geometric patterns.
You also can choose Design Series, which offers a modern twist and eye-catching wooden wall panels that compliment your taste.
Reclaimed & Weathered features a distressed surface and brings a true vintage experience to your home.
If you have any customized preferences, Maze Concept will be happy to assist.
2. Wall Panels Applicable At Every Corner Of The House
Decorative wood panels for ceilings is a versatile design that can be installed indoors or outdoors.
They are absolutely perfect as each wood is hand chosen and created using the most ecologically clean and environmentally friendly wood sources.
It can apply vertically on walls and even horizontally on ceilings!
This is a totally unique "focus point" which can bring your dream home up to trend!
It is normally applicable for
For more details, please contact Maze Concept now.
Maze Concept can make it into a decorative portrait with endless possibilities!
3. Unbeatable Features Of Wall Panels
Fluted walls carry insulating properties that perfectly suit those who love a quiet environment.
Also read: 15 Impressive Tongue And Groove Outdoor Ceiling Ideas You'll Love
This is because compressed wood can absorb sound vibration, and so on perform soundproofing functions.
Furthermore, decorative wood panels for walls can keep the house cool and reduce the need for air-conditioning too.
That's SUPER because "kill two birds with one stone"!
This feature was highly recommended to apply at
TV console
living room
bedroom
If you are looking for a proposal that can provide both decorative and functional solutions to your home, Maze Concept can idealize it for you!
4. Wall Panels Can Help To Cover Up Imperfection
Fluted wall panel is ideal for disguising the odd knock or bump on the wall surface.
Unlike the preparatory work required when painting or wallpapering, as long as the walls are ready and even, then the wooden panels can be fixed directly onto the surface, ultimately saving time and money.
With so many benefits carried by wood wall paneling, there is no reason for you to wait further!
Quickly contact Maze Concept, and start making plans to change the interior and exterior design of your dream room now!
5. Wall Panels Are Easy To Install
You can try DIY Fluted Wall Panel at home by yourself!
The process including
Measurement
Cut the panel edges
Marking
Sawing
Apply bonding agent
Stick on wall
It is recommended to let the wood get acclimated to the room humidity and temperature for 2 to 3 days before installation.
The wall surface is required to be flat, clean, dry, and dust-free during installation.
If you dislike compilation, Maze Concept has a team of professional installers to provide direct installation service with more efficient and time-saving manners.
So you can avoid having disputes over issues with 3rd party installers!
6. Upkeep Wall Panels Is So Easy
Fluted Panels do not carry any grout lines that can discolour or stain after a long time of period.
Once installed, you can wipe the surface with a soft cloth and no further upkeep is required.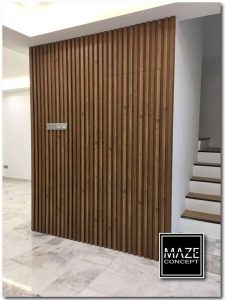 Any damaged surface can be sanded down and resealed to restore its beauty.
Individual panels can also be replaced without causing much disturbance to other parts of the wall.
Compared to wallpapers and painting, wood wall panels are relatively resistant to changes in humidity.
That means maintenance required for cracked or peeling walls is LOW.
Don't wait, come and grab them from Maze Concept today!
7. Wall Panels Will Cost You Less
Fluted wall panels can upgrade the comfortability, especially maximize the aesthetics of your home at a relatively low cost.
Keep in mind that the vertical lines will make the walls appear visually higher, so the area will look more spacious.
The price varies depending on the area required for paneling, either fully covered or halfway covered.
So it's a merit to own these tip-top features for your selfie corner too!
With the high technologies applied, Maze Concept can tailor-made wall panels following your needs.
You will not be required to pay extra for dealers' profit or any other additional charges.
Why Choose Maze Concept Technology & Decorative Wood Panel?
Maze Concept is the master in Technology Wood Panel field.
All wood paneling products supplied by Maze Concept entitle for a 30-year warranty.
And come together with specialty mentioned below:
looks as genuine as wood,
10x lighter than wood,
delicately designed,
water-resistant,
anti-termite,
fire-resistant,
zero formaldehyde
There is a wide range of high-quality fluted wood wall panels, ceiling strips and biowood cladding offered for both residential and commercial buildings.
The most heart beating is all wood panels are freshly produced from Kuala Lumpur (KL) factory and sold at factory price!
When you are lost and lack ideas… Please always remember the Maze Concept!