You know, I know, everyone knows!
Most of the "new house" is just an empty space covered by bare walls, bare ceiling, and bare floor…
But once we start to bring in interior design, top up with feature walls, furniture, etc.
Then only it transforms into your DREAM HOME!
A place where you feel in love, comfort and special. Agree?!
Compared with ordinary ideas, such as painting, hanging some portraits and artwork…
Why not make it a little more outstanding, with a trendy luxury atmosphere?
Come on! Let us open your eyes about the Fluted Wall Panel!
What Is Fluted Wall Panel?
Fluted wall panel is always the best choice to break the monotony of walls, and liven up a room.
It is usually made from compressed wood, plant fibers or PVC plastic, which sticks together by special glue.
That's why it gives them an excellent natural wood appearance in terms of wood tonning, grain finish appearance and texture of natural wood.
Maze Concept's fluted panels are weatherproof, termite proof, fire retardant, easy to install, low maintenance, eco-friendly and durable products.
Hence, it's received a good response from the users due to the current trend of decoration for residential and commercial panelling and feature walls.
If you have no idea how to start, feel free to contact Maze Concept for more information.
Fluted Panel Can Be Installed In 2 Ways
A Fluted Wall Panel is a great way to give your room a "focus point".
There are two ways to install Fluted Panel:
1. Fluted Panel On Ceiling Application
2. Fluted Panel On Wall Application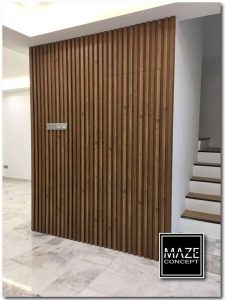 Both installations will carry different wall finishing that uses different colours and textures to make your target area really stand out!
Fluted Wall Panel Ideas For Home
It must be very dull if you look around the house with a plain normal ceiling top and wall.
Instead of spending much on a custom-made plaster ceiling, or wall painting.
Let's think about the Fluted Wall Panel!
It's not only eye-catching, but from a Chinese perspective the Fluted Wall Panel is a tip-top choice to enlighten the home Feng Shui too.
Below is the area where you can utilise Fluted Wall Panel ideas for your new home.
1. Ceiling Wood Panel ideas for car porch
2. Fluted Wall Panel ideas for living room
4. Fluted Wall Panel ideas for balcony
5. Fluted Wall Panel ideas for bedroom
6. Ceiling Wood Panel ideas for toilet
7. Ceiling Wood Panel ideas for kitchen
1. Ceiling Wood Panel Ideas For Car Porch
Try to imagine when you get out of the car, what is the first picture that comes to your mind?
Let's say you just walked by a landed house, what makes you think about the owner?
Yes, BINGO! It's a car porch! The first impression of your guest!
By applying ceiling wood panels for car porch, you can easily create a classy look of your home and the trend will never fade.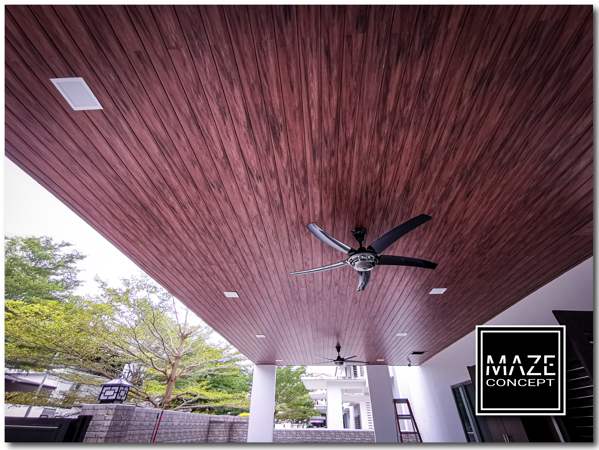 This idea can tremendously transform the car porch into an aesthetically pleasing spot for the property.
What's to wait?! Call and get advice from Maze Concept now!
2. Fluted Wall Panel Ideas For Living Room
Living room is the place where we spend time with family, relatives and friends.
Therefore, it's always targeted to have some great interior design to upgrade the comfortability, especially maximize the aesthetics of your home!
If you want to add a dose of warmth to your living room, decorative wood panels for ceilings would be the best choice.
Because it is not only eco-friendly but able to keep the internal temperature under cozy conditions.
When you are having a headache choosing the right types of wood wall panels for your living room, Maze Concept could help you!
3. TV Fluted Wall Panel
In the living room, the feature wall is usually the same wall as the TV console.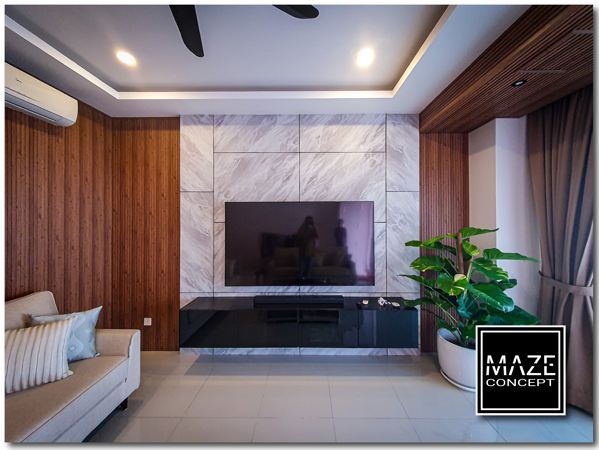 Keep in mind that the vertical lines will make the walls appear visually higher, so the area will look more spacious.
If you are looking for a proposal that can provide both decorative and functional solutions to your TV area, Maze Concept can help you!
You can always spell out your ideas, and let them idealize TV fluted wall panel for you.
They have ambitious ideas to handle your requirement either fully covered, or halfway covered.
Come on! WhatsApp or contact Maze Concept today for a consultation.
4. Fluted Wall Panel Ideas For Balcony
Want to make your balcony close to nature and have some typical Bali chill and relax feel?
But you worry monsoon season will make them expose to moisture, and cause damage?
Fluted wall panel is always your best solution!
You don't have to worry, because the fluted wall panel is tailored-made to ensure it is water-resistant, anti-termite and mould repellent!
Therefore, your wall and ceiling will not decolourize due to rainwater leakage.
It can apply vertically on walls and even horizontally on ceilings!
Come and grab them from Maze Concept today!
5. Fluted Wall Panel Ideas For Bedroom
Bedroom is a place where we rest and requires a calm atmosphere.
Fluted Wall Panel (also known as decorative wood panels for walls) would be a great option due to its durability, and also resistant to changes in humidity and temperature.
The long lasting and insulating properties, which keep the bedroom cool and quiet.
Furthermore, the Fluted wall panel is eco-friendly which will not release hazardous elements if compared with the wall painting.
Did you know that Fluted Wall Panel also can apply to cabinet doors and create a feature wall that has loads of storage behind it, while remaining hidden to the eye?
For more details, please contact Maze Concept now!
6. Ceiling Wood Panel Ideas For Toilet
We know your worries!
With the high technologies applied, Maze Concept can tailor-made ceiling wood panel following your needs.
Their product is guaranteed to be water-resistant, termite proof and mould repellent!
Therefore, it should not restrict you from making your toilet up a notch.
And we understand how bad it is if toilets are unable to follow your desired trend…
Hurry and don't shy talk with Maze Concept about your doubt.
7. Ceiling Wood Panel Ideas For Kitchen
There are too few options for kitchen beautifying…
Old man said "Wife is the origin of a happy family, and the kitchen is her dedicated war zone".
If you love her, why not let her have a trendy and elegant kitchen to work with?
Moreover, ceiling wood panel is very easy to maintain.
It does not have any grout lines that can discolour or stain after a long period of time.
That's why you are highly recommended to try it!
Moreover, Ceiling Wood Panel is zero Formaldehyde, much healthier if compared to wall painting!
Quickly contact Maze Concept for more information!
Why Choose Maze Concept Technology Decorative Wood Panel?
Maze Concept is a well-established Wood Walls Fluted Panel expert in Malaysia, who achieved a great record of transforming over 2,000 residential and commercial interior designs and sold over 200,000 sq. ft. within 24 months.
They offer a wide range of high-quality tongue and groove outdoor ceilings,  fluted wood wall panels, ceiling strips and biowood cladding for both residential and commercial decoration purposes.
All wood panels are custom designed, freshly produced from Kuala Lumpur (KL) factory and sold with factory price.
Maze Concept has a team of professional installers, who can guarantee the installation would be carried with more efficient and time saving manners.
When it comes to choosing the right types of wood wall panels, Maze Concept is here ready to guide you!