Every interior designer would tell you to add an accent wall to your home if it is dull.
Instead of the common wall behind the television, why not explore installing decorative wood panels for walls above our heads? Yes, the ceiling!
This easy trick will instantly transform your space and add dimension. You could be perplexed because there are so many things to examine.
A feature ceiling is a terrific method to draw attention to and emphasize the interior space. However, many are not utilizing the ceiling area.
1. Decorative Wood Panels For Roof Edge
2. Decorative Wood Panels For Commercial
3. Decorative Wood Panels For Car Porch
4. Decorative Wood Panels For Living Room
5. Decorative Wood Panels For Bathroom
6. Decorative Wood Panels For Balcony
7. Decorative Wood Panels For Stairs
8. Decorative Wood Panels For Kitchen
What Is Decorative Wood Panel?
Decorative wood panel is the same as decorative wall panel which consists of composite materials with a surface finish film lamination.
This composite material has the appearance and texture of genuine wood, but with improved qualities that reduce its upkeep.
The installation of the wood panels is fairly simple—measure, cut the panel edges, mark the spot, saw the excess, apply bonding agent, and stick it on the desired surface.
Using these decorative wood panels is a greener and long-term option for residential and commercial interior designs.
Decorative Wood Panels For Ceilings
1. Decorative Wood Panels For Roof Edge
The top edges of roofs are one of the features of one's house that catch the attention of passersby or even for one to recognize your house.
One space homeowners often pay the least attention to is the bottom area of these roof edges.
Also read: Decorative Wood Panels For Walls Appearance
Spice the space up with decorative panels with a pre-finished surface of the natural wood grain. This product is ideal for your outdoor roof edge installation.
These panels are eco-friendly and are a sustainable alternative to conventional wood.
Enjoy the woodlike finishes without the risk of termite infestation with this product that requires almost no maintenance over its lifetime!
2. Decorative Wood Panels For Commercial
One of the best ways to establish and construct a beautiful commercial space is by combining a company's brand and target market's behaviors into the design.
Building a space that appeals to your target demographic and encourages people to visit is essential.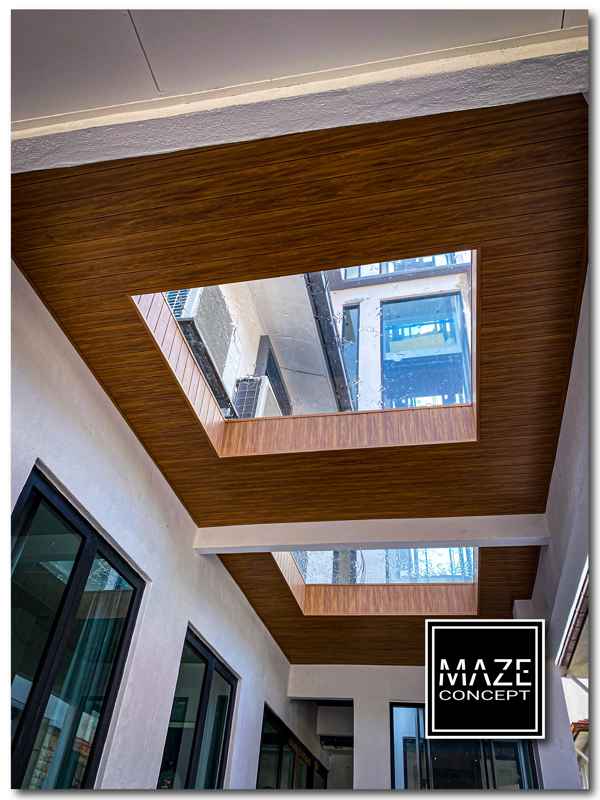 With their many good qualities, decorative wood or fluted panels are popular for creating feature ceilings in commercial spaces.
Some of the many reasons choosing fluted panel are as below:-
low maintenance
eco-friendly and
durable
Try making asymmetrical shapes with the panels to create features that can look different from various angles.
The way the look of your ceiling can change as you move around the space makes it an engaging area.
3. Decorative Wood Panels For Car Porch
Car porches may appear to be just spaces for cars, and they do not need to be a top concern for homeowners when it comes to home remodeling.
The porch, on the other hand, will be the first thing visitors see when they come up to your house—and we all know how crucial first impressions are!
With just a few simple considerations, the once basic and dull area is quickly brought to life by adding decorative wood panels to the ceiling of your car porch.
Also read: 15 Impressive Tongue And Groove Outdoor Ceiling Ideas
An accent wall at your entry will greet your visitors with a warm welcome and will get you looking forward to seeing it every day when you leave and enter your house!
4. Decorative Wood Panels For Living Room
Trends come and go, and before you know it, what you thought was stylish is now considered outdated.
Consider adding decorative wood panels to your living room as an alternative to wall paneling to bring a touch of warmth to your space.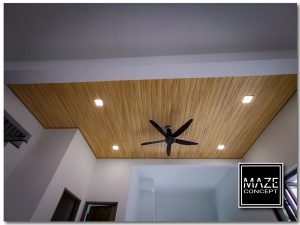 Homeowners can choose from a wide variety of dark to light wood-textured panels or colors to paint over existing wood panels.
By adding the fluted panels to specific portions of your ceiling, this design component will bring a visual impact to the room yet without feeling overwhelming.
Furthermore, the vertical lines will make the walls appear higher, enlarging the living space.
5. Decorative Wood Panels For Bathroom
Fluted panels are a greener option for homeowners to pick from, so say goodbye to traditional wood panels.
You can use elegant decorative wood panels for the false ceiling to give your bathroom a classic look.
The wood's natural patterns are elegant and relaxing, and it's becoming a popular choice among modern homebuyers.
Also read: 6 Easy Steps To Install Decorative Wall Panel
Decorative wood panels aren't just for common areas like living rooms and kitchens, thanks to their wide range of applications in domestic interior design.
These wood panels can be used in every part of the house, including the bathroom ceilings!
These panels provide homeowners with a sophisticated-looking area that is simple to assemble and maintain.
6. Decorative Wood Panels For Balcony
Many individuals dream of having their own outdoor space, even if it is just a small balcony.
Every balcony has a lot of potential for design. Balconies can be improved by homeowners who love spending time on them.
Opt for fluted or decorative wall panels instead of plasterboards for your ceiling. As a result, it's a wonderful place to spend time in.
Not only does a decorated ceiling make a distinctive statement, but these wood panels also outperform plasterboards as they withstand outdoor weather changes well.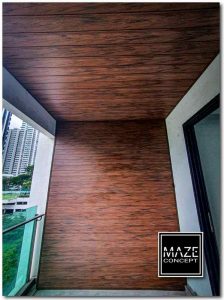 The following are some of the benefits of wood panels:
Resistant to water
Resistant to termites
Retardant to flames
Free from Formaldenyde
An excellent option for your balconies!
7. Decorative Wood Panels For Stairs
Tie your entire house design by including the stairwell space to make this space part.
Decorative wood panels would be an excellent complement to an elegant and sophisticated stairwell.
Make the most of the large blank canvas above and below the staircase with wall ideas for home both modern and traditional in their style.
Try experimenting with different shades of wood grain and the length of the panels across your ceiling for a more dramatic appearance.
Alternatively, consider hanging artworks or lighting fixtures that will add textures and varied levels to the space.
This would give the eyes something to look at and allows the space to be brightened up.
8. Decorative Wood Panels For Kitchen
Decorative wood panels are frequently used to create designs on ceilings by combining two or more types of panels.
A variety of stunning designs are created by adjusting the spacing and colors while maintaining the continuity of each space in the house.
These wood panels are not only beautiful, but they are also functional. They come in a variety of colors and textures, as well as adjustable grains and textures.
The following are some of the causes of this:
Waterproof and resistant to termites and insects.
Coated with fire retardant material.
It won't absorb moisture either.
It weighs less than actual wood.
Conclusion
Maze Concept is ready to provide you with a wide selection of solutions to meet your needs, no matter how big or small the project is.
As one of Malaysia's leading providers of decorative wood panels, we guarantee to deliver a solution that matches your needs based on our years of experience.
Why Should You Choose Maze Concept's Decorative Wood Panel? 
A proven track record of remodeling over 2,000 residential & commercial interiors
All wood panels are custom designed and manufactured locally in Kuala Lumpur
High-quality decorative wood panels sold at factory prices
Group of expert installers to ensure installation in a more efficient and timely manner
Provides a comprehensive choice of wood panels suitable for residential or commercial use
Maze Concept is ready to assist you in kickstarting your journey of selecting the best decorative wood panels for your property!